What is a Power Strip?
A Power Strip is a block of electrical outlets that distribute AC power to electrical devices such as computers, audio/video equipment, appliances, power tools and lighting. Several housing styles are available, including strip, rack-mount, under-monitor and direct plug-in.
What are the most common Power Strip applications?
Power Strips are typically used in offices, server rooms, data centers, homes and industrial environments where power distribution to several electrical devices is a priority. Some common applications include connecting computers and peripherals, servers and other network equipment, home entertainment systems, as well as workbench power tools.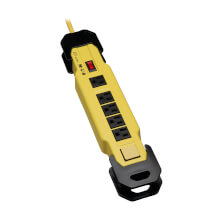 When selecting a Power Strip, there are a few questions to consider.
How many outlets do you need? How many transformers will you plug into your power strip?
Purchase a power strip which will accommodate at least as many items as you plan to plug into it. Remember that transformer plugs are larger than standard plugs; many power strips are designed to accommodate transformer plugs without blocking adjoining outlets.
What cord length and outlet configuration do you need?
Determine how far you will place your power strip from your grounded AC outlet, and select a power strip with a cord at least that long.
Power strip outlet configurations include standard, right-angle, front-facing, rear-facing and end-mounted outlets.
What kind of equipment will you plug into your power strip?
Choose a power strip that is suited for your application and environment: Will you use it for workbench tools, household or office equipment, a laptop, a PC or work station, A/V equipment or medical equipment?
Other Considerations
Does your application require enhanced safety features?
Many power strips feature all-metal housings, which are virtually indestructible, and 15- or 20-amp circuit breakers that prevent dangerous system overloads.
GFCI models, often utilized in areas where water is present, prevent shock by instantly disconnecting the electrical circuit in case of a short.
Does your application require medical- or hospital-grade power strips?
Select power strips are either designed for use in patient-care areas or not for patient-care rooms within hospitals and other healthcare facilities.
Power Strips

Provide convenient multiple outlets for all electronics in your home or office.

Convenient multiple outlets for power tools and electronics.

Provide multiple outlets in a rugged, all-metal 1U housing—guaranteed to last for life.

Rugged design for safe multi-outlet distribution of AC power for industrial, automotive and factory environments.

Hospital-grade outlets in both patient-care areas (medical-grade) and non-patient areas (hospital-grade).

Reliable, convenient, and cost-effective method of power distribution for appliances, power tools, lighting and other electrical equipment.