VESA Patterns Ensure Your TV and Computer Monitor Mount Are the Perfect Fit
There are many great reasons to mount a flat-screen TV on a wall or elevate your monitor above the desk. You'll free up valuable space, improve sightlines and gain flexibility of viewing angles. But before you get out the drill and stud finder, you need to find a VESA mount that's compatible with your TV or monitor.

Most TV and monitor manufacturers comply with a set of standards set by the Video Electronics Standards Association (VESA) known as the Flat Display Mounting Interface (FDMI) or Mounting Interface Standard (MIS). VESA-compliant display mounts also follow these standards. This makes it easy to select a mount that accommodates your display and, even more importantly, will safely hold its size and weight.
What is a VESA Mount?
A VESA pattern refers to the configuration of the four mounting holes on the back of a flat panel TV or computer monitor. For example, in a 100 x 100 mm VESA pattern, the screw holes are arranged in a square 100 mm apart. Before you select a display mount, check the back of your display for the VESA mounting holes. If dimensions are not marked, check the specifications in your owner's manual or measure the distance between holes (center to center) to make sure you purchase a compatible mount. Many mounts accommodate a variety of VESA hole patterns, so you likely will be able to find a variety of models compatible with your display.
VESA Mounting Standards
The following table shows the MIS standards and how these relate to the numbers in your TV's specifications.
| MIS Standard | VESA Pattern | Screen Size* | Max. Weight* |
| --- | --- | --- | --- |
| MIS-D | 75 x 75 mm; 100 x 100 mm | 12-22.9" | 30.8 lb. |
| MIS-E | 200 x 100 mm | 23-30.9" | 50 lb. |
| MIS-F | 200 x 200 mm and above | 31" or larger | 250 lb. |
*Specific models of mounts may have screen size and weight maximums that vary from the VESA standards.
Tripp Lite TV and monitor mounts are all VESA-compliant and come with screws and other mounting hardware that fit the screw holes on the back of your display. When choosing your display mount, other factors to consider include one-touch adjustments for tilt, swivel and screen level. With the right display mount for your application, you'll enjoy the vivid images of your flat panel display all the more!
Learn more with our Display Mount Buying Guide.
Products related to this article:
Styles of wall-mounts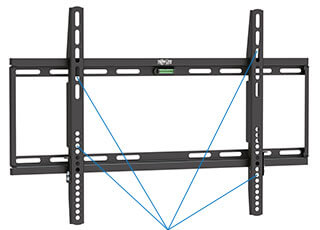 VESA-compliant holes on a fixed-position wall-mount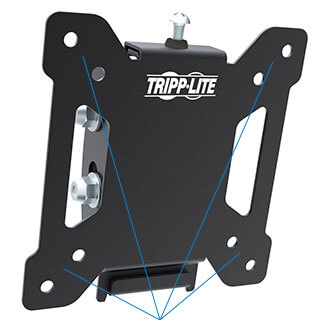 VESA-compliant holes on a tilting wall-mount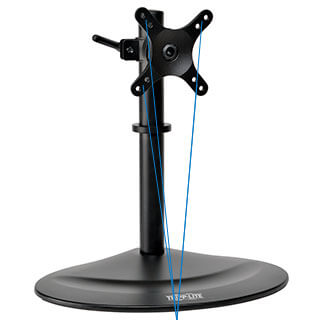 VESA-compliant holes on a tilt-and-swivel desk mount