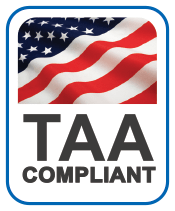 TAA Compliance
A Full Product Line for GSA Schedule Purchases. If you supply products to the government or government contractors, make sure those products are TAA-compliant. Eaton TAA-compliant products make it possible for you to do business with government agencies purchasing with government funds.
What is the Trade Agreements Act?
TAA refers to the Trade Agreements Act (19 U.S.C. § 2501–2581), which is intended to foster fair and open international trade. TAA requires that products must be produced or undergo "substantial transformation" within the United States or a designated country.
Designated countries include:
Countries that have reciprocal trade agreements with the United States, including Canada, Mexico and Australia.
Countries that participate in the World Trade Organization's Government Procurement Agreement, including Japan and many European countries.
Caribbean Basin countries, such as Costa Rica, Haiti and Jamaica.
Countries designated as "least developed," such as Afghanistan, Bangladesh, Laos and Ethiopia.
The People's Republic of China and some other major electronics manufacturing centers are absent from the list of designated countries, which makes sourcing TAA-compliant IT equipment especially challenging.
TAA-Compliant Products

Eaton offers over 500+ TAA-compliant UPS systems, PDUs, rack enclosures, KVM switches, console servers, surge protectors and cables.
Browse All
---
FEATURED PRODUCTS
TAA-Compliant Solutions from Desktop to Data Center