Model Number: B096032
This Model has been retired and has not been replaced. An Owner's Manual and other information for the B096-032 is available on the model support page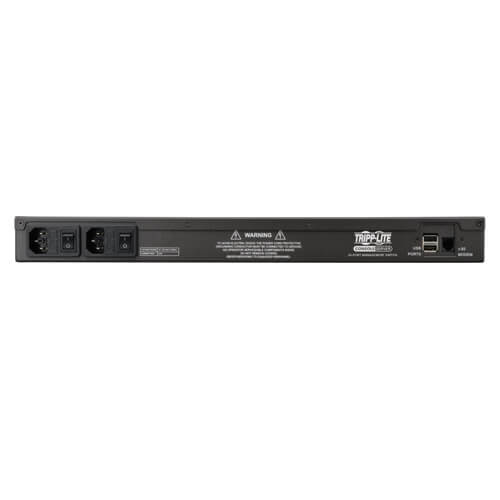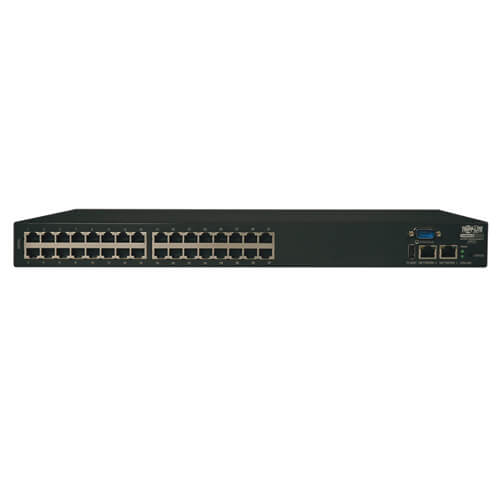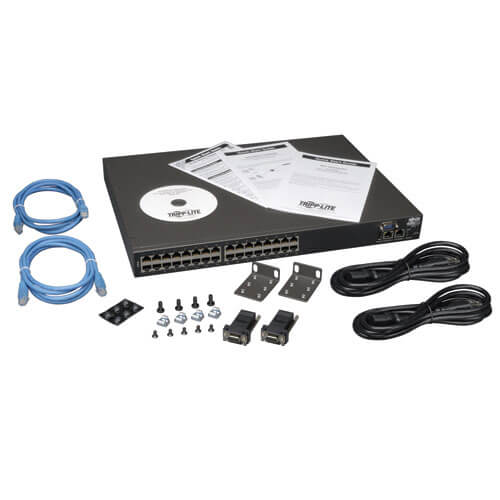 32-Port Console Server with USB - Built-In Modem, Dual GbE NIC, 16 Gb Flash, 1U Rack, TAA
---
Access All Your Serial and Network Devices from Anywhere in the World at Any Time
This USB console server provides secure in-band (primary network) and out-of-band (alternate channel) remote access to serial- and network-connected routers, network switches, firewalls, PBX systems, UPS systems, PDUs and other devices. It offers reliable network connectivity with dual Gigabit primary and failover Ethernet ports (the second port can also be used as a gateway port) and dual power supplies. You can use the B096-032 in a wide variety of locations, including wiring closets, branch offices, kiosks, point-of-sale and other remote sites where a quick identification and resolution of network issues is imperative.
Simple and Flexible Accessibility
The 32 RJ45 ports are configured to use standard Cat5e/6 patch cable when connecting to Cisco devices. They integrate with industry-standard directory servers using TACACS+, RADIUS, LDAP and Kerberos authentication. 16 Gb of internal NAND flash memory can be used for log storage and file storage.
Built-In V.92 Modem for Out-of-Band Access
A serial data/fax modem enables 3G cellular out-of-band (alternate channel) access when remote sites experience a network outage. You can dial into the rack console from anywhere at any time, eliminating the costly need for additional USB modems that can be accidentally disconnected or have compatibility issues. However, if desired, you may connect one of the RJ45 ports to an external Multitech MT9234MU-CDC-XR or US Robotics USR5637 USB modem (not included) to receive out-of-band access.
Router/Gateway
Each gateway can port forward to an unlimited number of locally networked hosts (computers, routers). This rack console also includes a built-in stateful firewall and embedded DHCP server to host a separate management LAN for critical traffic.
The Utmost in Security to Keep Your Sensitive Data Private
This 32-port console server supports the following security features and standards: FIPS 140-2, SSL and SSH, stateful firewall, OpenVPN and IPSec VPN. The embedded FIPS 140-2 OpenSSL cryptographic module is validated to meet FIPS 140-2 standards and has received Certificate #1051.
PowerMan PDU and UPS Support
This IP terminal server uses PowerMan for PDU and RPC management and Network UPS Tools for UPS system monitoring and management. It provides support for Tripp Lite and other power products, so you can remotely manage power to your connected equipment.
USB Ports
Two USB 2.0 ports and one USB 1.0 port allow connection to newer devices with USB ports, such as Tripp Lite's wide variety of PDUs and UPS systems with WEBCARDLX or other LX Platform remote management cards.
Compact Design for Convenient Mounting
The heavy-duty steel housing comes with mounting brackets for 1U installation in an EIA-standard 19-inch rack.
TAA-Compliant for GSA Schedule Purchases
The B096-032 is compliant with the Federal Trade Agreements Act (TAA), which makes it eligible for GSA (General Services Administration) Schedule and other federal procurement contracts.
OVERVIEW
| | |
| --- | --- |
| UPC Code | 037332181183 |
| Multi-User | Yes |
INPUT
| | |
| --- | --- |
| Nominal Input Voltage(s) Supported | 100V AC; 110V AC; 115V AC; 120V AC; 127V AC; 140V AC; 200V AC; 208V AC; 220V AC; 230V AC; 240V AC |
| Maximum Input Amps | 0.4 |
| Input Connection Type | 2 x IEC-320-C14, Auto-Switching 100-240VAC |
| Input Frequency | 50/60Hz |
POWER
| | |
| --- | --- |
| Power Consumption (Watts) | 20 |
PHYSICAL
| | |
| --- | --- |
| Color | Black |
| Shipping Dimensions (hwd / in.) | 3.00 x 16.10 x 19.60 |
| Shipping Weight (lbs.) | 11.40 |
| Unit Dimensions (hwd / in.) | 1.75 x 17.40 x 12.50 |
| Unit Weight (lbs.) | 8.70 |
ENVIRONMENTAL
| | |
| --- | --- |
| Storage Temperature Range | Non operating storage temperature: -30C to +60C (-20F to +140F) |
| Relative Humidity | Humidity: 5% to 90% |
| Operating Temperature | Ambient operating temperature: 5C to 50C (41F to 122F) |
| BTUs | 120V: 68 BTU per hour |
COMMUNICATIONS
| | |
| --- | --- |
| IP Remote Access | Yes |
| Network Compatibility | 100 Mbps (Fast Ethernet) |
STANDARDS & COMPLIANCE
| | |
| --- | --- |
| Approvals | FCC Part 15 A, UL 1950, CE (EN55022 A, EN55024, EN60950), TUV, C-Tick |
WARRANTY
| | |
| --- | --- |
| Product Warranty Period (Worldwide) | 4-year limited warranty |
Copper Network Cables
| | Model Number | Description |
| --- | --- | --- |
| | N001-005-BK | Cat5e 350 MHz Snagless Molded (UTP) Ethernet Cable (RJ45 M/M) - Black, 5 ft. (1.52 m) |
| | N001-007-BK | Cat5e 350 MHz Snagless Molded (UTP) Ethernet Cable (RJ45 M/M) - Black, 7 ft. (2.13 m) |
| | N001-010-BK | Cat5e 350 MHz Snagless Molded (UTP) Ethernet Cable (RJ45 M/M) - Black, 10 ft. (3.05 m) |
| | N001-014-BK | Cat5e 350 MHz Snagless Molded (UTP) Ethernet Cable (RJ45 M/M) - Black, 14 ft. (4.27 m) |
| | N001-025-BK | Cat5e 350 MHz Snagless Molded (UTP) Ethernet Cable (RJ45 M/M) - Black, 25 ft. (7.62 m) |
| | N201-005-BK | Cat6 Gigabit Snagless Molded (UTP) Ethernet Cable (RJ45 M/M), Black, 5 ft. (1.52 m) |
| | N201-007-BK | Cat6 Gigabit Snagless Molded (UTP) Ethernet Cable (RJ45 M/M), Black, 7 ft. (2.13 m) |
| | N201-010-BK | Cat6 Gigabit Snagless Molded (UTP) Ethernet Cable (RJ45 M/M), Black, 10 ft. (3.05 m) |
| | N201-014-BK | Cat6 Gigabit Snagless Molded (UTP) Ethernet Cable (RJ45 M/M), Black, 14 ft. (4.27 m) |
| | N201-025-BK | Cat6 Gigabit Snagless Molded (UTP) Ethernet Cable (RJ45 M/M), Black, 25 ft. (7.62 m) |
Network Adapters
| | Model Number | Description |
| --- | --- | --- |
| | B090-A9F | Modular Serial Adapter Straight-Through Wiring (DB9 F to RJ45 F) |
| | B090-A9F-X | Modular Serial Adapter Crossover Wiring (DB9 F to RJ45 F) |
| | B090-A9M | Modular Serial Adapter (DB9 M to RJ45 F) |