Product Status
Discontinued on 4/3/2023
2-Port DB9 (RS-232) Serial PCI Card with 16550 UART, Full Profile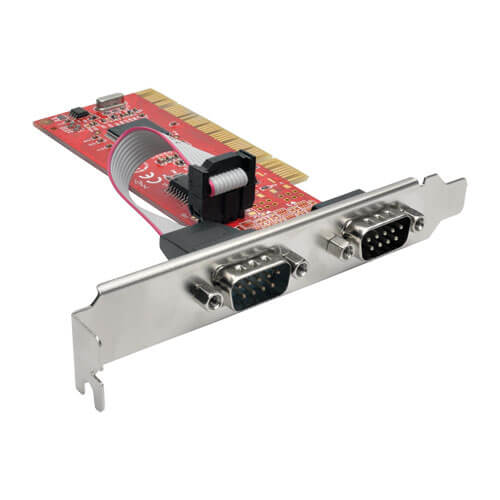 This Model has been retired and has not been replaced. An Owner's Manual and other information for the PCI-D9-02 is available on the model support page
---
The PCI-D9-02 2-Port DB9 Serial PCI Card adds two DB9 serial ports to your computer or server. By adding the PCI-D9-02 to a computer with no DB9 ports or not enough of them, you can upgrade your DB9 capability without having to buy a new computer.
Perfect for home or office, the PCI-D9-02 supports data transfer rates up to 115.2 Kbps on each port. It easily installs inside your computer in just a few minutes. The standard bracket's interface is compatible with universal 3.3V and 5V 32-bit PCI/PCI-X slots. Allow the appropriate drivers to automatically install on your hard drive (a driver CD is included if they don't), and connect DB9 serial extension cables (such as Tripp Lite's P520-006) to the card's DB9 connectors.
The PCI-D9-02 is fully compliant with PCI Local Bus Specification Revision 2.3 and compatible with industrial standard 16550 UART. On-chip 256-byte depth FIFO in transmit and receive paths of each port. Supports hardware and software flow control; PCI IRQ sharing and PCI power management; 5-, 6-, 7-, 8- and 9-bit serial formats; Even, Odd, None, Space and Mark parity; and 1- or 2-stop bit operation.
Adds 2 DB9 (RS-232) Serial Ports to Your Computer

Upgrades your DB9 capability without buying a new computer or server
Each port supports data transfer rates up to 115.2 Kbps
Perfect for home or office use
Easy to Install Inside Your Computer

Compatible with universal 3.3V and 5V 32-bit PCI/PCI-X slots
Appropriate drivers install to your hard drive automatically
Loaded with the Latest Features

Complies with PCI Local Bus Specification Revision 2.3
Compatible with industrial standard 16550 UART
On-chip 256-byte depth FIFO in transmit and receive paths of each port
Supports hardware and software flow control
Supports PCI IRQ sharing and PCI power management
Supports 5-, 6-, 7-, 8- and 9-bit serial formats
Supports Even, Odd, None, Space and Mark parity
Supports 1- or 2-stop bit operation
Computer with available universal 3.3V and 5V 32-bit PCI/PCI-X slot
Windows (XP and later) or Linux (2.6.x and later)
PCI-D9-02 2-Port DB9 Serial PCI Card with 16550 UART, Full Profile
Driver CD
Owner's manual
PHYSICAL
| | |
| --- | --- |
| Color | Red |
| Cable Length (ft.) | 0 |
| Shipping Dimensions (hwd / in.) | 1.00 x 5.00 x 5.80 |
| Shipping Weight (lbs.) | 0.20 |
WARRANTY & SUPPORT
| | |
| --- | --- |
| Product Warranty Period (Worldwide) | 2-year limited warranty |
Declarations of Conformity