Product Status
Discontinued on 5/15/2023
17.3kW 3-Phase Vertical PDU Strip, 208V Outlets (42 C13 & 12 C19), 0U Rack-Mount, Accessory for Select ATS PDUs
Part Number:
PDU3V602D354A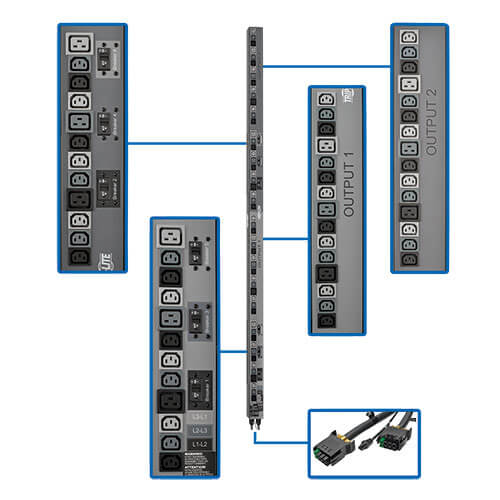 This Model has been retired and has not been replaced. An Owner's Manual and other information for the PDU3V602D354A is available on the model support page
---
Requires Tripp Lite 3-phase auto-transfer switch (ATS) PDU (sold separately).PDU360AT6G60
The PDU3V602D354A 17.3kW 3-Phase Vertical PDU Outlet Strip is a required accessory option for Tripp Lite's PDU360AT6G60 and other 3-phase ATS PDUs that specify compatibility with this model. It's recommended for high-density equipment racks in data centers, server rooms and heavily configured equipment racks.
When used with the PDU360AT6G60, the PDU3V602D354A supports up to 17.3kW total output with 27.8A balanced maximum full load per output phase combination (L1-L2, L2-L3, L3-L1) and 13.9A balanced maximum per breakered output load bank (C1-C6).
The 42 C13 and 12 C19 single-phase 208V outlets receive power from the connected ATS PDU. The outlets are interlaced to help you balance loads by spreading connections across the phase combinations throughout the rack. Each outlet is numbered and color-coded to help you keep track of connected devices and which phase combination powers each. Dual 2.5-ft. (0.76 m) power cords, each with a special eight-position plug, connect directly to the PDU's rear receptacles.
The PDU3V602D354A's rugged all-metal housing mounts in compatible racks with no tools needed. Vertical 0U installation reduces cord clutter and improves airflow through the rack.
Required Accessory for Select Tripp Lite ATS PDUs

Compatible with PDU360AT6G60 and other select Tripp Lite 3-phase ATS PDUs
Recommended for high-density equipment racks in data centers and server rooms
Saves rack space, improves airflow and reduces cord clutter by locating outlets closer to connected devices
Supports up to 17.3kW total output with 27.8A maximum per output phase combination and 13.9A max per breakered output load bank
Heavy-duty 2.5-ft. (0.76 m) power cords with proprietary 8-position plugs connect to ATS PDU
42 C13 and 12 C19 Interlaced 208V Outlets

Single-phase outlets help balance loads by spreading connections across phase combinations (L1-L2, L2-L3, L3-L1) throughout the rack
Numbered and color-coded for easy ID of connected devices and which phase combination powers them
20A double-pole magnetic circuit breakers protect against overload
Installs Easily in 0U of Rack Space

Preinstalled mounting buttons for toolless vertical rack-mounting in compatible racks
Preinstalled grounding lug for connecting devices that require chassis ground
Heavy-duty all-metal housing provides durability in demanding rack environments
OVERVIEW
| | |
| --- | --- |
| UPC Code | 037332192486 |
| Accessory Type | 0U Strip for 3-Phase ATS PDU |
| Accessory Class | PDU Accessories |
INPUT
| | |
| --- | --- |
| Input Phase | 3-Phase |
| Maximum Input Amps | 48 |
| Maximum Input Amps Details | 48A total 208V 3 Phase input (24A max per input cord) |
| Input Cord Details | Set of two input cords, each with 7 conductor input plug for use with compatible Tripp Lite ATS PDU products only |
| Input Cord Length (ft.) | 2.5 |
OUTPUT
| | |
| --- | --- |
| Output Capacity Details | Supports up to 17.3kW total output; 27.8A max per output phase (L1-L2, L2-L3, L3-L1), 13.9A max per breakered output load bank (C1-C6) when used with Tripp Lite's PDU360AT6G60 ATS; All configurations: 16A max per C19 outlet; 12A max per C13 outlet |
| Frequency Compatibility | 50 / 60 Hz |
| Output Receptacles | (42) C13; (12) C19 |
| Output Nominal Voltage | 200; 208; 220; 230; 240 |
PHYSICAL
| | |
| --- | --- |
| Material of Construction | Metal |
| Form Factors Supported | Vertical rackmount installation supported with toolless mounting in button-mount compatible racks |
| PDU Form Factor | Vertical (0U) |
| Shipping Dimensions (hwd / in.) | 7.28 x 7.68 x 79.53 |
| Shipping Weight (lbs.) | 24.97 |
| Unit Dimensions (hwd / in.) | 70.000 x 4.000 x 2.170 |
| Unit Weight (lbs.) | 19 |
ENVIRONMENTAL
| | |
| --- | --- |
| Operating Temperature Range | 32° to 122°F (0° to 50°C) |
| Storage Temperature Range | 5° to 140°F (-15° to 60°C) |
| Relative Humidity | 5-95% non-condensing |
| Operating Elevation (ft.) | 0-10,000 |
| Operating Elevation (m) | 0-3000 |
STANDARDS & COMPLIANCE
| | |
| --- | --- |
| Product Certifications | CAN/CSA-C22.2 No. 60950-1 (Canada); NOM (Mexico); UL 60950-1 |
| Product Compliance | RoHS; CE (Europe); REACH; FCC Part 15 Class A (USA) |
WARRANTY & SUPPORT
| | |
| --- | --- |
| Product Warranty Period (Worldwide) | 2-year limited warranty |
Power Cords and Adapters
| | Model Number | Description |
| --- | --- | --- |
| | P004-002-13A | PDU Power Cord, C13 to C14 - 13A, 250V, 16 AWG, 2 ft. (0.61 m), Black |
| | P004-003-13A | PDU Power Cord, C13 to C14 - 13A, 250V, 16 AWG, 3 ft. (0.91 m), Black |
| | P004-004-13A | PDU Power Cord, C13 to C14 - 13A, 250V, 16 AWG, 4 ft. (1.22 m), Black |
| | P004-005-13A | PDU Power Cord, C13 to C14 - 13A, 250V, 16 AWG, 5 ft. (1.52 m), Black |
| | P004-006-13A | PDU Power Cord, C13 to C14 - 13A, 250V, 16 AWG, 6 ft. (1.83 m), Black |
| | P005-006-14LA | Heavy-Duty PDU Power Cord, C13 to Left-Angle C14 - 15A, 250V, 14 AWG, 6 ft. (1.83 m), Black |
| | P005-006-14RA | Heavy-Duty PDU Power Cord, C13 to Right-Angle C14 - 15A, 250V, 14 AWG, 6 ft. (1.83 m), Black |
| | P036-002 | Power Extension Cord, C19 to C20 - Heavy-Duty, 20A, 250V, 12 AWG, 2 ft. (0.61 m), Black |
| | P036-006 | Power Extension Cord, C19 to C20 - Heavy-Duty, 20A, 250V, 12 AWG, 6 ft. (1.83 m), Black |